Fushoushan cold mountain Oolong Tea, Medium roasting
Elegant aroma cold mountain
Tea garden above altitude of the 2500 meters
medium roasting,sweet fragrance
deep notes of candy scent
fragrance of ripening rice
Semi-ball type Oolong tea
partially fermented tea
Flavor: Toasted grains, woodsy aroma. Honey-essence, fresh scone/nutty character. Bold, refreshing finish.
At 2600 meters above sea level, Fu Shou Shan is the second highest peak in the Lishan Range, exceeding Lishan (for which the mountain range is named) by almost 400 meters.
Our Fu Shou Shan was hand-gathered from a tea garden that sits at nearly 2500 meters (8200 feet) above sea level. At that elevation, strong but short sun exposure in the morning produces intense flavor compounds, while cooler mist-shrouded afternoons allow the plant to store those compounds.
The result is an incredibly flavorful and complex tea with an amazing degree of balance and concentration, with absolutely no astringency or bitterness. An initial brew delivers aromatic notes of sugarcane and cream. Subsequent brews reveal more complex floral and tropical notes that bring to mind ripened sweet pineapple and passion fruit. The finish is rich, unctuous and persistent.
福壽山ファームウーロン茶、エレガントな香りの冷たい山。
2500メートル以上のティーガーデン,ミディアムロースト、甘い香り。
Fushoushan farm Oolong Tea, elegant aroma cold mountain.
Tea garden above 2500 meters.
medium roasting,sweet fragrance.
福壽山ファームウーロン茶、エレガントな香りの冷たい山。
2500メートル以上のティーガーデン,ミディアムロースト、甘い香り。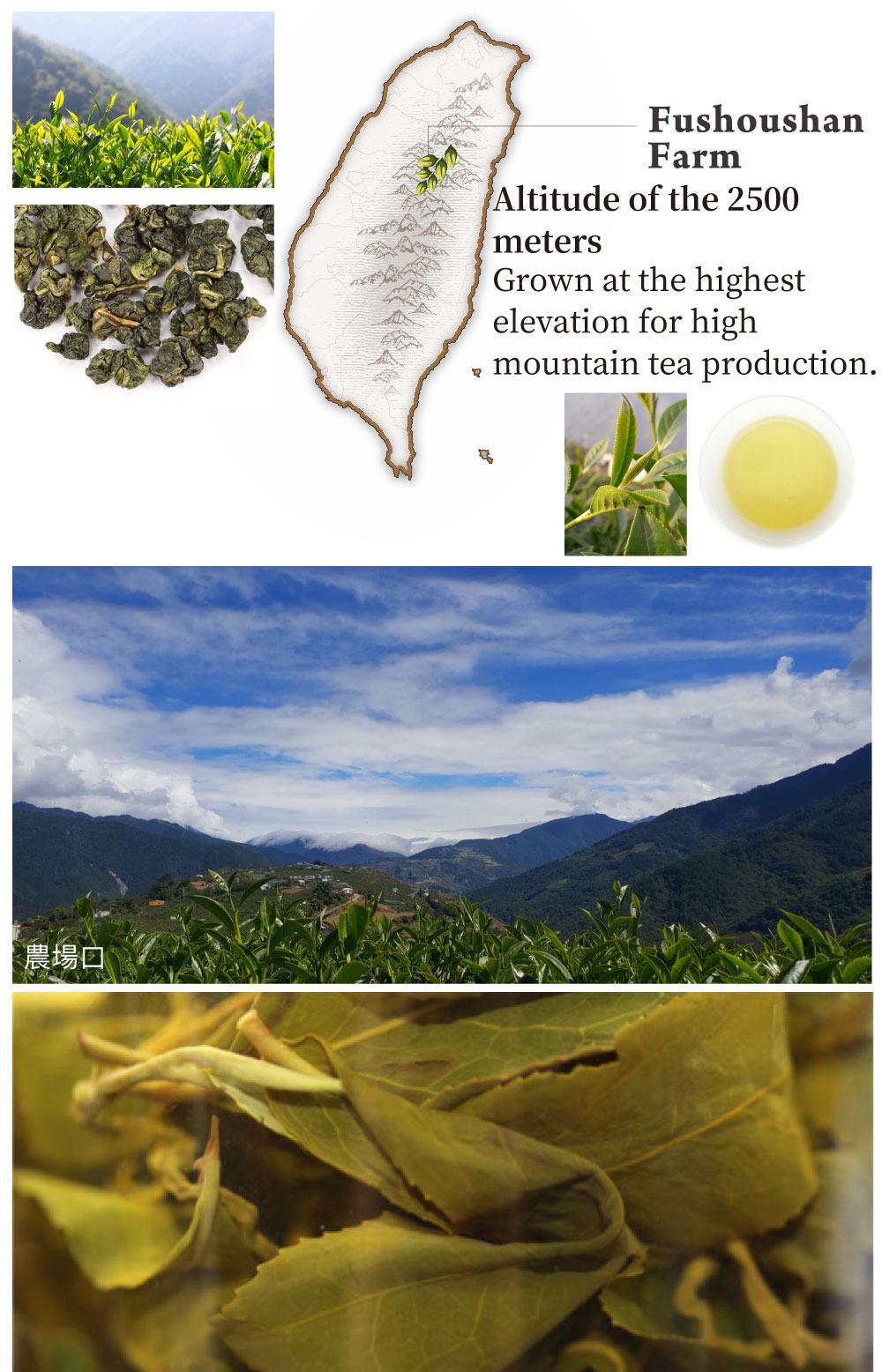 International testing Test Report