Ali high mountain oolong tea 150g (Zhangshu Lake)
Ali high mountain oolong tea, light roasting, Fresh scent of clouds and mists
aftertaste mellow and sweet fragance of tea
It is an excellent daily tea with a smooth sweet taste and pleasing color. This tea has the traditional hallmarks of a great quality, mid-elevation.
Altitude of the 1600~1700 meters
Semi-ball type Oolong tea
partially fermented tea
Natural ecology tea gardens
Flavor: vegetal aroma. Smooth, substantial texture. Refreshing, herbal finish.
A unique fusion of terroir and craftsmanship, this tea combines the traditional crafting style of Wenshan Baozhong with the high-elevation growing environment of Alishan.
The crafting method of this tea originates in Northern Taiwan and hearkens to an earlier time in tea making, pre-dating the rolled oolongs for which Taiwan is known. Referred to as baozhong or "pouchong" ("bundled variety") in Chinese, these teas are twisted rather than rolled and represent the lightest of Taiwan's oolongs. Typically oxidized in the range of 5%-10% and only lightly roasted, baozhongs are crisp and floral, preserving the fresh, lush nature of the raw leaves.
This high elevation spring harvest produces a mellow texture and crisp brew with notes of cane sugar, gardenia, and cream.
台湾のオーガニックでエレガントなサウンドは、マイルドでメロウ、そして甘いです。
阿里山特有、山の頂上のにおい、ウーロン茶の香り。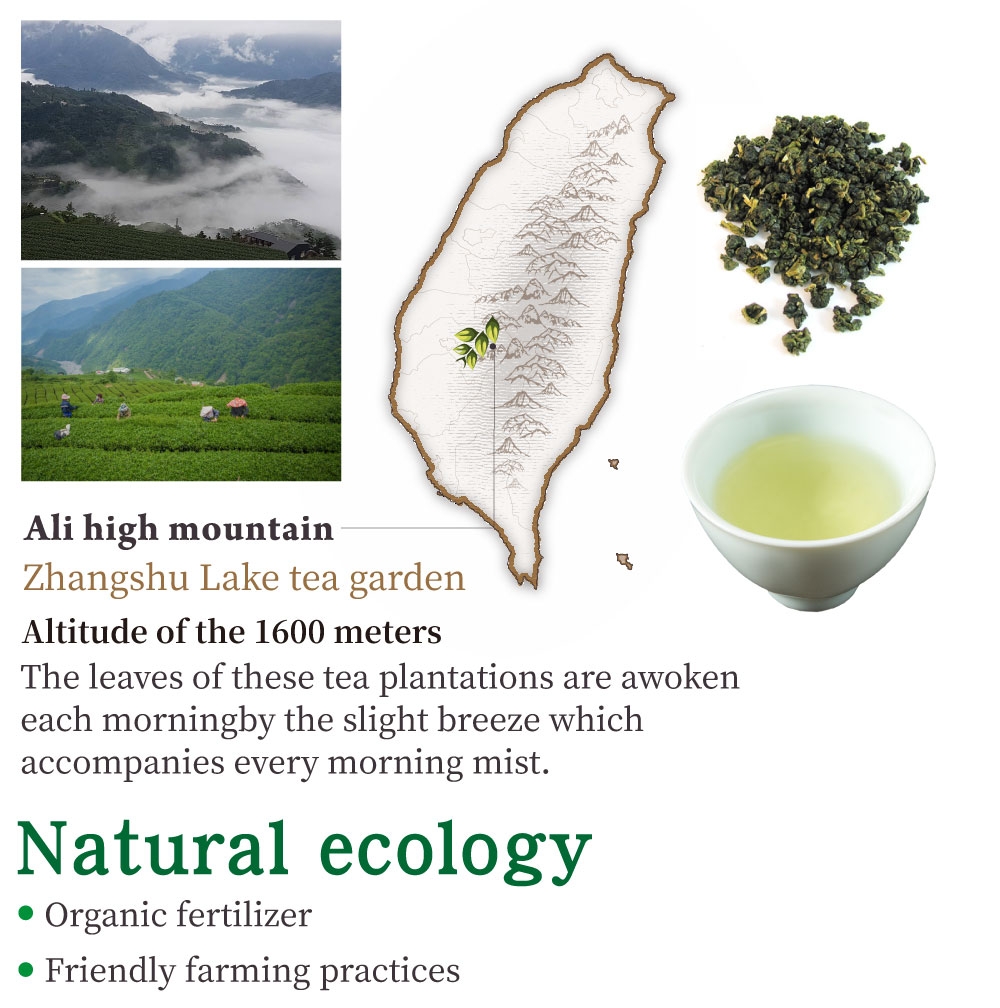 International testing Test Report